What to wear⁉️
.
Hello World!
Happy happy new year to y'all (though late lol) I am so glad we all made it and are still surviving in these Covid-19 times😊. Uww i have a good feeling about this year, new content, amazing fashion bangers back to back so hang on and stay ready coz you already know, Tabie is always ready and in the mood to make it right ✔️❕
Errm so, where do we start from… Okay, before I go into our main focus today – it is very important for each and everyone to learn how to love their body image and be comfortable in it.."damn those pounds or welcome them" (Kimberly Bonnell) ie; If you are thick and you are cool with that, embrace your thickness and dress accordingly – the worst thing you can do is to pretend those pounds ain't there, am sure looking like a crown is the last things you wana do, CAREFUL!!
Right, this topic is so broad as it covers quite a number of occasions that could possibly stress you out all night and still wake up with the illest mumble of "Yikes! what to wear??"
Yesterday for instance, I woke up totally blank on what to pull off at the office coz i had a presentation and was so nervous about everything including the choice of my own clothes smh.. that's basically what motivated me to share this post with you guys coz a minute after, I realized that everything am looking for is right in front of me really-
"What to wear lives right in ur closet"
All you have to do is know how to mix what with what and don't worry about that part coz that's exactly my business here – I gotcha! 😉
Now – let's start with the basics before we go into different clothes for different occasions-
Body image-
So as we all know, there is the negative body image where one feels uncomfortable with their own body mainly because of the standards set by our societies on what defines beauty and there is positive body image where one is confident and comfortable with their body. But tell you what?
I believe every woman is a diamond- skinny, medium, plus size, we are all beautiful and I am here to teach you how to make the most of your figure. forget what society says.
Let's be realistic- dress your body the way it is, u have a big tummy? Don't try to dress like it's not there, where you are big, se the bum or hips, avoid pleated clothes, and yards of fabric because they are fattening. Beefy textures beef you up.
On the other hand, dark colors are slimming, so if u are big, these are the flattering colors to go for. And slim people will only look smaller in such.
Vertically stripped clothes also makes one look slimmer and taller whilst horizontal stripes makes you look meaty and shorter
Talking of the hair, really wide hair makes you look shorter but really straight hair doesn't necessarily make u taller
If big especially on the belly part and waist "No cropped tops..
Also No tops that hit you at the widest part of your hips, or bum" (Bonnell)
Balance up any body type using the flattery formula, remember it from my previous post?
.
If top is lean, make the bottom bigger and vice versa (read previous post for more details about the flattery formula)
Last and most importantly on body image- as Kimberly Bonnell my style inspo would Always put it:- Don't be a slave to size. Buy what fits.
Moving on to;
What to wear on different occasions-
1. Job interview
First impression matters. And most of this 'first impression judgement' is highly visual so make it count. Once u enter into that interview room, People are looking at your face, your body language, and what you're wearing.
"What you want in an interview is to stand out while looking like you'll fit right in."
Basically, I'd advise everyone to first of all spy or research how people dress on the particular firm, but when in doubt, you can never go wrong with a suit.
Google.com
The golden rule is :- If you want to boost your chances of turning that interview into a job offer, your outfit needs to be professional and on point!
.
2. Workplace- look promotable
Now that you've gotten that dream job, break your carrier success by dressing for that position u inspire and working hard of course lol dressing is just about adding sugar to the spice.
Um there is a couple of business realms and on this part, I will extract from this amazing blog by Lily and Austin Belcak whose post was about dressing for interviews but I thought it was too good to apply for both interview and work place- the idea is the same anyway-
(The following is the extraction with explanations here and there)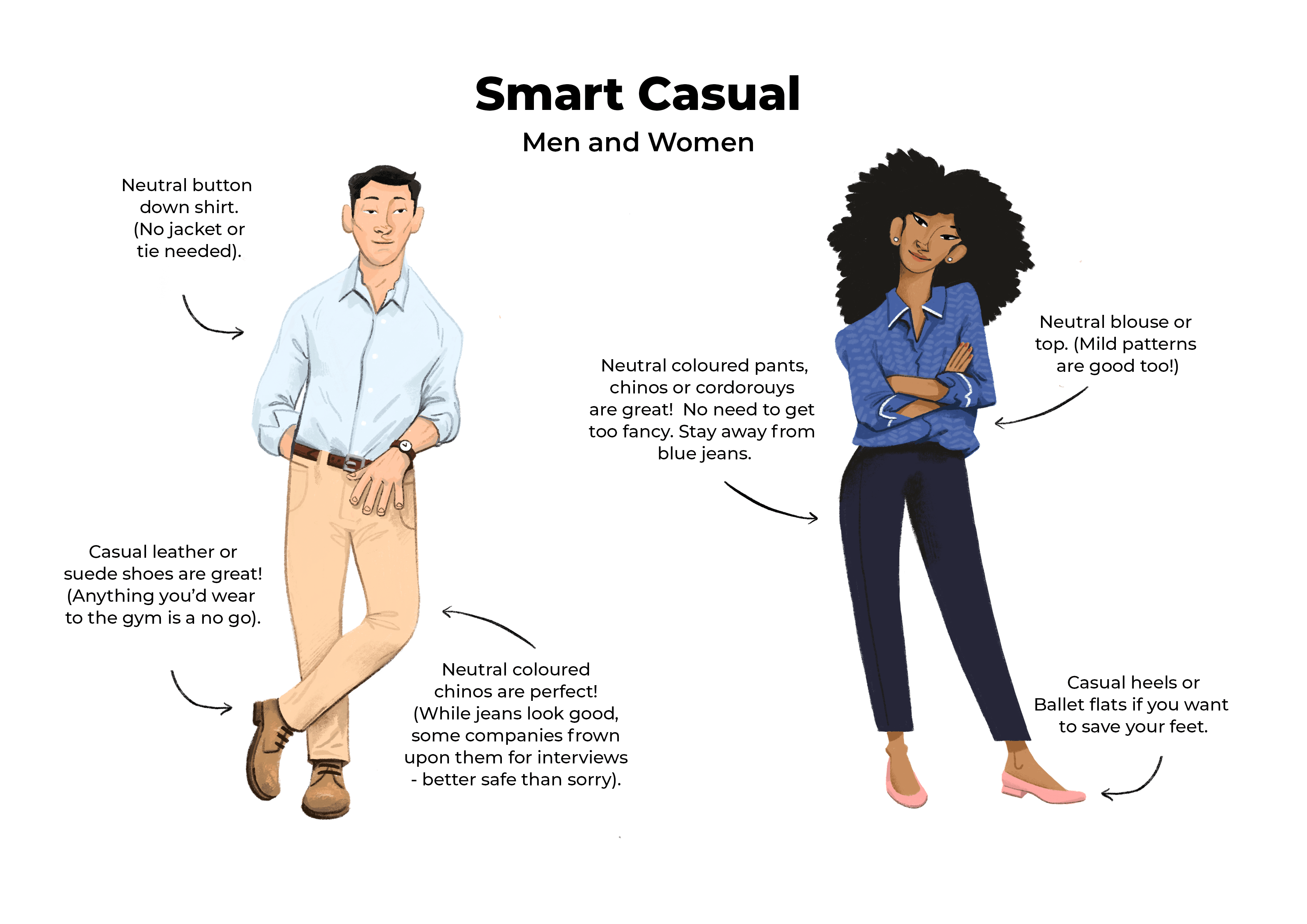 Smart Casual: This dress style is fun and light while still being professional. Choices should be neutral and fit well, but don't need to be overly formal.
In a casual workplace, u don't necessarily need to wear a suit everyday. U can use some casuals like khakis, wrap dresses, slim pants and a business jacket… List goes on
occasions –
Business Casual: We're not breaking out the full suit here, but we are definitely on the more formal side compared to Smart Casual.
For guys this usually means a sport coat, slacks, and leather shoes. For women, this is a neutral blouse (with a blazer or sweater if needed), tailored dress pants, and fancy flats or pumps.
Business Formal: This is your traditional, conservative business look. Think bankers, lawyers, consultants, etc. We're talking full suit and dress shoes for both genders.
(End of extraction)
3. Church
This part is very urguable because times have changed, people have evolved and people like to say Good does not care about ur outside but the heart. We'd argue all day but long story short, While the Bible makes it abundantly clear that we should not be fixated on our clothing and outward appearance; make no mistake, God does also have a concern for what we wear to church and in worship…
Simple casual always does it better for church for both sexes
Most importantly we are clearly not to adorn ourselves in clothing that is dishonoring to God.
4. Party
For this one, time of the party, venue and season is very important to note. For instance, evening parties go well with shinny clothes unlike afternoon parties-
"Your first clue About what to wear lies in how fancy or quirky is the invitation? It's mood reveals what the party mood will be"
When in doubt, the 'little black dress' always does it for me
Parties require light clothes, comfortable for dancing or having fun with your friends and also tolerable for every state u are in either drunk or sober.
5. Wedding attire
To a wedding that's not yours-
As a very general rule, they say women wear dresses and men should wear a suit. Your suit should not be black, and your dress should not be white. However, as soon as you add in dress code requirements like "black tie optional," or "cocktail attire," you have a much more specific look to achieve.
Contrary to the general rule, I think women can proper wear white but should make sure they don't look too bridal. Men can also wear black as long as they don't look too funeral.
6. Funeral or memorial service
As the saying goes "pay respects to the dead without offending the living"
Black or dark colors continues to be the best option, especially for the immediate family of the deceased. …
Erm u can never go wrong with anything black but mind you, don't wear a hot black anything 🙅
7. Any season/ weather
A wise man once said "There's no such thing as bad weather, just wrong clothes"
Dress for that weather and make sure you're killing it whilst achieving total comfortability coz by the end of the day, that's all that matters
Loose-fitting clothing is your best bet for staying cool in the summer. For instance, cropped, wide-leg pants, loose shirts, oversize blouses, and dresses and skirts with room to breathe !!
On a rainy day-
Cover yourself up honey-
Winter-
Yep! So guys, this is what I had for you on what to wear for ur body image and on different occasions – I hope it was helpful and feel free to add anything that's on your mind down bellow- See y'all in the next post❤️